CTV Atlantic 
Published Friday, November 8, 2013 1:48PM AST 
Health officials say bedbugs have been confirmed at Moncton's Dr. Georges-L.-Dumont University Hospital Centre, resulting in a slowdown in the emergency department.
They say medical staff detected insects on a patient who came into the emergency department on Wednesday.
A pest control company was called to the site and confirmed the insects were bedbugs.
(Purity Pest Control is the number one choice for hospitals when a discrete K-9 bed bug inspection is required. In this photo you see Michael with two of his trained and certified bed bug detection dogs suited up for an inspection in the ER department. Hospitals have a policy that everyone who enters an ER must wear what they call "the bunny suit" so as not to spread germs etc. Since no policy was ever made for dogs entering the ER, once the inspection is completed by the dogs they do what's called a "critical clean" to the ER.)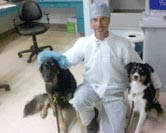 "Once we determined that, we had to isolate," says Richard Losier, Chief Operating Officer for the Beauséjour Zone. "We had to bring in a company and isolate the rooms that the individual was in."
Bedbugs confirmed in ER at Moncton's Dumont hospital. Hospital officials say sniffer dogs were called in to identify the bedbugs and affected areas, which included examination rooms and an area of the waiting room.
"These areas were isolated, the waiting room was treated, and examination rooms are being treated," says Losier.
No other areas in the facility were affected.
Losier says the emergency room is still operating, but on a reduced scale, while affected areas are treated.
"What it does cause, is that we have a few exam rooms that are shut down, so the pace of the emergency room is going to be a little slower than usual," he says.
He expects the infestation should be dealt with, and the emergency room operating at full capacity, by Saturday afternoon.
The statement stressed that, although bedbugs are pest insects, they do not constitute a health risk to people.
Ron Aiken, a biologist at Mount Allison University, says the creepy critters are more common than one might think.
"They are mostly what we call passive dispersal," says Aiken. "They get on clothing, in furniture, in luggage, all that sort of thing, and then they just, people carry them from place to place."
He also says Canadian winters can assist in dealing with bedbugs.
"If you come back, just leave your luggage outside in the freezing cold for a day or so and that will kill most of them off," he says.
Aiken says bedbugs have made somewhat of a comeback over the past decade, in part due to cheaper airfare, allowing people to travel more. He adds, for most people, a bedbug bite is more of an inconvenience than a health concern.
Read more: http://atlantic.ctvnews.ca/bedbugs-confirmed-in-er-at-moncton-s-dumont-hospital-1.1534056#ixzz2kAfvMNgh
Contact Purity Pest Control if you think you have bed bugs or if you want more information on our K-9 Bed Bug Detection.